The most diverse car show in South Dakota!
Over 10,000 horsepower in one parking lot!
A little something for every enthusiast.
One last hurrah for 2017!
The biggest show yet closed 2017!
Some of the rarest cars around made it to CCSL in August!
The best variety of cars Sioux Falls has to offer!
The wind was almost as fast as the cars!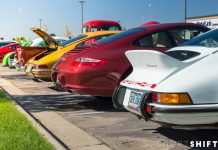 April showers brought May... power!
We may need a new parking lot soon!